Keeping your kids' room tidy
Keeping your kids' room tidy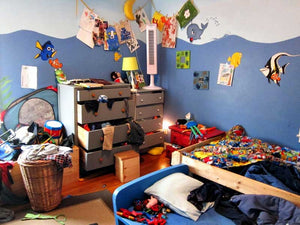 The combination of receiving tons of new toys, games, books and clothes and the natural urge to get organized for the New Year means that a lot of parents are going to be nagging their kids to clean their rooms this week.
It's a problem! Children's rooms are usually small, sometimes shared, and can lack proper storage. We cram all their outgrown and out-of-season clothes, toys, crafts, books and even our own childhood mementos in their rooms. Kids can't get organized if their drawers are stuffed and their closet is crammed and their shelves are full.
So start by getting down to their level and look around. Look at their space, their storage and their furniture from their point of view. Everything has to have a place to go! Are there enough shelves? Are there enough drawers? Do the drawers work properly? Large, heavy drawers that are hard to open and close discourage kids from putting away their clothes.
If your child has enough drawers but at the moment some are too tall and out of reach, consider adding some under-the-bed drawers. If you need to add storage to accommodate your child's growing wardrobe, look for dresser drawers that roll easily on steel and nylon runners.
At Crate Designs we love helping children make their spaces functional and beautiful.
Our advice comes from our experiences working with many different people in many different circumstances, and also from the tried and true successes (and plenty of failures) from our own lives.