National Moving Month – May
National Moving Month – May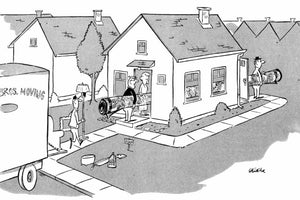 The real estate market is in full swing, and people are getting ready to move into their new dream homes. Families are moving to new neighbourhoods, people are starting new jobs, and some are starting over in a new city. It's an exciting time and it can be fun to be a part of your journey. But moving can also be expensive and a hassle, it can be a frightening proposition. There are many complaints made to the Better Business Bureau about moving companies.
There are ways to save money a move without risking your possessions. Remember that anyone with a truck can call themselves a mover!
To save money on your move:
Reduce the amount of stuff to move. Ask yourself if you want to pay to bring each item with you. If not, have a garage sale to help eliminate what shouldn't be moved then donate the rest.
Ask around for free moving boxes. Liquor store, university mailrooms, reach out on Facebook.
Use your own blankets, linens and rags as packing materials instead of packing peanuts or bubble wrap.
Drive small items to the new place yourself.
Measure twice, move once. Meaning, measure your new place to make sure that your furniture will fit. If not, sell it.
Have your new furniture delivered directly to your new address!